DO MAKE USE of LINKS,
>SEARCH<
&
>Side Bars<
&
The Top Bar >PAGES<
~~~~~~~~~~#########~~~~~~~~~~
.
Twenty Minute Topic – Topic 10: Debunking The Claims of Climate Change Being Manmade …
.
~~~~~~~~~~#########~~~~~~~~~~
Posted by:
Greg Lance – Watkins
Greg_L-W
eMail:
Greg_L-W@BTconnect.com
The BLOG:
https://InfoWebSiteUK.wordpress.com
~~~~~~~~~~#########~~~~~~~~~~
.
Hi,
Twenty Minute Topic
Use Up/Down Arrow keys to increase or decrease volume.
In this series journalist Marcus Stead and veteran campaigner and blogger Greg Lance-Watkins discuss big issues affecting all our lives over a twenty minute period.
In this 10th. episode:
Twenty Minute Topic – Topic 10 …
This week, Marcus Stead and Greg Lance-Watkins debunk the theory of man-made climate change.
Climate change in itself is undeniable, it's been going on for as long as the earth has existed, but to say mankind is responsible is to rely on VERY wobbly science. The reality is that the green lobby and the oil giants are on the same side – this is a multi-billion dollar industry!
They also discuss how vulnerable teenager Greta Thunberg is being exploited and manipulated by people to further this toxic agenda.
<a href="http://CLICK HERE
 See also:

In the 800K years mankind has existed
#CO2
levels are lower than most of the last 600Million years!Never forget the environMental damage we do has zero effect on 4.5Bn. years of
#Climate_Change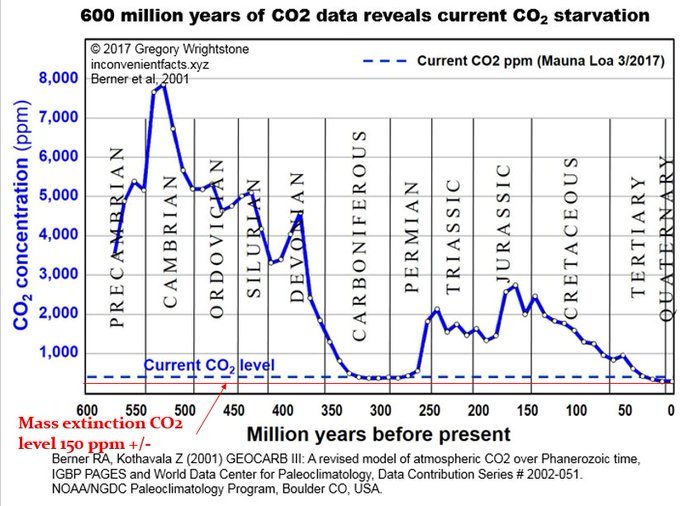 May I suggest, if you wish to understand just how clearly it can be proven that man-made global warming is a pack of utterly corrupt lies exploiting man-made fear and the gullibility of people! Of all of the gases in this planet's atmosphere, 0.04% is CO2, which the charlatan self-acclaimed scientists who make a living out of fear & global warming claim is the root cause for Climate Change or was it global warming or was it perhaps both this week?
It is known that of the 0.04% of the atmosphere which is CO2 97% is generated by nature and possibly as much as 3% by mankind. Therefore mankind is responsible for generating 0.001% of the CO2 & the UN has used so-called scientists to lie to mankind and pretend mankind causes climate change and or global warming!
It must be remembered that for 4.5 Billion years a constant on our planet, this
Tiny Pale Blue Dot
, as it hurtles through space, has been climate change caused by The Sun. Plate Tectonics and Volcanic Action. Mankind in our present form has only existed for around, at most 800 Million years and it was not until 23,000 years ago that a few started to cultivate anything and in real terms we can only claim to have been farming for some 12,000 years.
Be minded that from the emergence of mankind it took until 1804 for there to be 1 Billion humans on the planet and until 1927 for there to be 2 Billion! Yet scientists make fools of themselves presumably for money and notoriety and try to pretend mankind is responsible for climate change and/or global warming – what obvious twaddle!
I think you will enjoy this as it very clearly exposes & debunks the UN's IPCC Conspiracy which virtue signallers, PC con artists, Warmist scammers, Governments & the gullible uphold – relative to the Climate Change conspiracy:
https://www.youtube.com/watch?v=1zrejG-WI3U
Marcus Stead and Greg Lance-Watkins address some tough, often controversial, issues, and welcome you to their growing audience.
If you have a topic you believe would be of interest we would welcome your suggestions.
~~~~~~~~~~#########~~~~~~~~~~
.
Posted by: Greg Lance-Watkins
tel: 44 (0)1594 – 528 337
Calls from 'Number Withheld' phones Are Blocked
All unanswered messages are recorded.
Leave your name & a UK land line number & I will return your call.
'e'Mail Address:
TWITTER: @Greg_LW
DO MAKE USE of LINKS,
>SEARCH<
&
>Side Bars<
&
The Top Bar >PAGES<
I try to make every effort to NOT infringe copyrights in any commercial way & make all corrections of fact brought to my attention by an identifiable individual
.
Re-TWEET my Twitterings
https://twitter.com/Greg_LW

To Spread The Facts World Wide
eMail:
Greg_L-W@BTconnect.com
The BLOG:
https://InfoWebSiteUK.wordpress.com
~~~~~~~~~~#########~~~~~~~~~~