DO MAKE USE of LINKS,
>SEARCH<
&
>Side Bars<
&
The Top Bar >PAGES<
~~~~~~~~~~#########~~~~~~~~~~
.
Park Geun-hye: South Korea's ex-leader jailed for 24 years for corruption – What of #Blair? …
.
~~~~~~~~~~#########~~~~~~~~~~
Posted by:
Greg Lance – Watkins
Greg_L-W
eMail:
Greg_L-W@BTconnect.com
The BLOG:
https://InfoWebSiteUK.wordpress.com
~~~~~~~~~~#########~~~~~~~~~~
.
Hi,
The level of public indifference seems blatant as the verdict is broadcast live in public – you will note no one seems remotely interested and it is questionable as to whether anyone in this crowded scene is paying the slightest notice.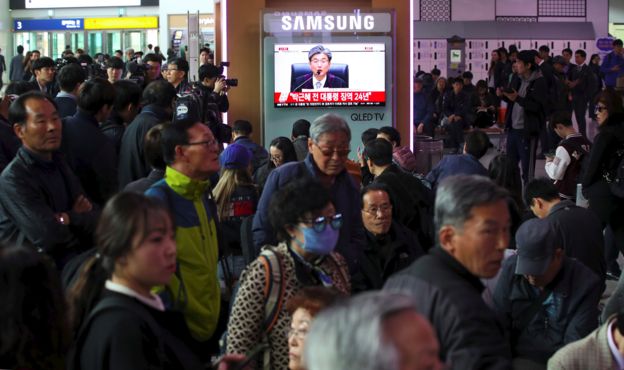 It is however of interest when you consider Ms. Park Geun-hye has been sentenced to 24 years in prison and a fine of £12M merely for corruption in office as President in South Korea. South Korea's levels of justice in this instance more than somewhat put Britain's justice system to shame.
Consider the irrefutable fact that Tony Blair (Anthony Charles Lynton Blair) lied to the British peoples, lied to Parliament, lied to the Monarch and lied to Britain's allies regarding Sheik Hussein of Iraq's stockpile of Weapons of Mass Destruction and implied they could be a threat to Britain within 45 minutes – he did this dishonestly, deliberately and duplicitously seemingly having colluded with John Scarlett, a Government employee who Blair rewarded with a Knighthood!
Scarlett produced a document plagiarisedf from the internet, written some years earlier by an Iraqui student at Barclay University California as a PhD thesis, he passed this document off as British intelligence and colluded with Tony Blair and others in his office & cabinet to 'sex it up'.
Blair then deliberately colluded with Jack Straw and had him present this fake document to President Bush's nominated representative at the UN, Colin Powell, who presented the lies of Tony Blair to the UN supported by the USA, thereby promoting Blair's efforts at self aggrandisement and the use of the British Military as mercenaries to his ego!
It is also worthy of note that this was not the only time the British Military were effectively used as mercenaries to promote Blair's personal ambitions, founded on lies and misrepresentation.
Blair also, without recourse to Parliament altered British immigration policy permitting a flood of immigrants, in the hope that the influx would both keep him in power and ensure the British antipathy for membership of the EU was watered down by the voting of the immigrant influx.
It is also interesting to note that having come to office owning a small house, rarely visited, in his NE Constituency and a mortgaged house in Islington Blair left office with a personal wealth estimated by some reputable financial organisations as being in the region of £60 Million.
One wonders why British so called justice has so significantly crashed that he and his corrupt cronies have not been prosecuted for corruption, War Crimes and Crimes Against Humanity at the very least!
It is clearly embarrassing to find South Koreas justice system is more ethical and in fact, in that South Africa has this week brought its recently ex leader Jacob Zuma to court on mu8ltiple (approx 720) charges of corruption and industrialised kleptocracy even they have higher standards than does Britain!
Park Geun-hye: South Korea's ex-leader jailed for 24 years for corruption
South Korea's former President Park Geun-hye has been sentenced to 24 years in jail after she was found guilty of abuse of power and coercion.

The verdict was broadcast live and represents the culmination of a scandal which rocked the country, fuelling rage against political and business elites.

Park, who was also fined 18bn won (£12m, $17m), faced a string of corruption charges.

The former leader was not in court on Friday for the verdict.

She has boycotted her trial hearings and has previously accused the courts of being biased against her. She has also denied all wrongdoing and has said she will appeal her sentence.

Judge Kim Se-yoon said Park had shown "no sign of repentance" after causing "massive chaos" in the country.

"We cannot help but sternly hold her accountable," the judge said.

South Korea's presidential residence, the Blue House, issued a statement after the verdict calling it a "heartbreaking event for the nation".

"A history that is not remembered is bound to be repeated," it read.

The move by the authorities to allow Friday's verdict to be broadcast live was unprecedented, but they cited extraordinary public interest in the case.

Image copyright

AFP/Getty

Image caption

What was she convicted of?

Park was found guilty of 16 out of 18 charges, most of which related to bribery and coercion.

The court ruled that she had colluded with her close friend, Choi Soon-sil, to pressure conglomerates such as electronics giant Samsung and retail chain Lotte to give millions of dollars to foundations run by Choi.

She was also convicted of forcing companies to sign lucrative deals with firms owned by Choi and donate gifts to Choi and her daughter.

In addition, Park was found guilty of leaking confidential presidential documents to Choi.

She has seven days to file an appeal.

What led to her downfall?

A friendship lies at the heart of the undoing of South Korea's first female president.

Park and Choi were childhood friends and Choi swiftly became the leader's most trusted confidante.

But their relationship latterly came under intense public scrutiny and the charge is that Choi had undue influence over a nation's affairs through her connection with Park.

Image copyright

Reuters

Image caption

Choi was eventually found guilty of corruption, and sentenced to 20 years in prison earlier this year.

After a prolonged series of hearings and months of street protests calling for her resignation, Park was finally removed from office in March 2017, making her the first democratically-elected president to be impeached.

She was arrested shortly afterwards, and has been in detention ever since.

Image copyright

AFP

Image caption

Who else was caught up in this?

Some of the biggest South Korean companies and their leaders have been drawn into the scandal, as well as numerous figures from the entertainment world and government servants.

Samsung's de facto leader Lee Jae-yong, also known as Jay Y Lee, was singled out in particular after details emerged that he had given a horse to Choi's daughter Chung Yoo-ra, who is an equestrian.

He was sentenced to jail, but only served five months before he was freed, when an appeals court reduced and suspended his sentence.

Ms Chung has also faced scrutiny, and was extradited from Denmark to South Korea last year to face questioning.

Is this unusual in South Korea?

Park, the country's first female leader, was also the first democratically-elected president to be impeached.

But she is not the only former president to have been arrested for corruption.

Last month former leader Lee Myung-bak was charged with corruption over allegations he took bribes while in office.

Two others, Chun Doo-hwan and Roh Tae-woo, were convicted for treason and corruption in the 1990s.

In 2009, former president Roh Moo-hyun killed himself while he was under investigation for corruption.

What does the verdict mean for the country?

Park's sentencing has drawn a line under what has been one of the biggest corruption scandals to rock South Korea in recent years.

The scandal has created greater awareness and criticism of the longstanding close ties between the political elite and chaebols, or family-run conglomerates which dominate South Korea's economy.

It has also fuelled the rise of the liberal Moon Jae-in, Park's previous political opponent who eventually replaced her as president after campaigning on a platform of a clean government.

But South Koreans are divided on the verdict. Several hundred Park supporters gathered outside the court waving national flags during the ruling.

Some sat in tears after the conviction, with others started a protest march.

"The rule of law in this country is dead today," said one pro-Park demonstrator.
To view the original of this article CLICK HERE
.
~~~~~~~~~~#########~~~~~~~~~~
.
Posted by: Greg Lance-Watkins
tel: 44 (0)1594 – 528 337
Calls from 'Number Withheld' phones Are Blocked
All unanswered messages are recorded.
Leave your name & a UK land line number & I will return your call.
'e'Mail Address: Greg_L-W@BTconnect.com
Skype: GregL-W
TWITTER: @Greg_LW
DO MAKE USE of LINKS,
>SEARCH<
&
>Side Bars<
&
The Top Bar >PAGES<
I try to make every effort to NOT infringe copyrights in any commercial way & make all corrections of fact brought to my attention by an identifiable individual
.
Re-TWEET my Twitterings
https://twitter.com/Greg_LW

To Spread The Facts World Wide

eMail:
Greg_L-W@BTconnect.com
The BLOG:
https://InfoWebSiteUK.wordpress.com
~~~~~~~~~~#########~~~~~~~~~~