DO MAKE USE of LINKS,
>SEARCH<
&
>Side Bars<
&
The Top Bar >PAGES<
~~~~~~~~~~#########~~~~~~~~~~
.
THE WORLD IS A BETTER PLACE Preacher Edgar Ray Killen DIED 12-Jan-2018
#IN_MEMORIAM: June 21, 1964. Schwerner, Chaney and Goodman Were Murdered – #Mississippi_Burning …
.
~~~~~~~~~~#########~~~~~~~~~~
Posted by:
Greg Lance – Watkins
Greg_L-W
eMail:
Greg_L-W@BTconnect.com
The BLOG:
https://InfoWebSiteUK.wordpress.com
~~~~~~~~~~#########~~~~~~~~~~
.
Hi,
THE WORLD IS A BETTER PLACE Preacher Edgar Ray Killen DIED 12-Jan-2018
After Killen: What's Next For Mississippi?
#PHILADELPHIA, MISS.—Rita Schwerner Bender traveled back to Mississippi last week in search of justice for the murder of her first husband, Michael, who was brutally murdered by Klansmen in Neshoba County on Father's Day 1964 for working with his wife and other activists here to register Mississippi blacks to vote. Justice, of a fashion, came Tuesday, June 21, when the mixed-race jury returned guilty manslaughter verdicts 41 years to the day after the three men were murdered on Road 515 south of Philadelphia.

#The Schwerners, fresh out of college in New York, came to Meridian in January 1964 to help Mississippi blacks help themselves in a state with the worst and most entrenched Jim Crow segregation laws in the nation. They met a wall of resistance bolstered by a strong coalition of Ku Klux Klansmen, law enforcement, everyday people and the business establishment.

#The two young idealists—he was 24; she was 22—also urged local blacks to take on a governmental system that kept segregation in place with voting poll questions like "How many bubbles are in a bar of soap?" standing between them and equality. The Schwerners were two people at the heart of a non-violent movement that ultimately believed in the good in people—including in a state where segregation was the most legally and socially entrenched.

#But, despite the delay in justice for her husband, Bender used her time in Mississippi for this trial, which began June 13, to try to tell the world that there were "many, many acts of violence" here during the Civil Rights Movement that need to be faced. "This case is not the only one, and it's not the most important one," she said on Day 3, standing in front of the Neshoba County Courthouse under a magnolia tree.

#'A Model Program'

#"We came to Mississippi to work in the Civil Rights Movement, to work at establishing a community center in Meridian," Bender testified on Day 3, June 15. She was the prosecution's first witness in its case against Edgar Ray "Preacher" Killen for planning the murder of her husband, along with James "J.E." Chaney and Andrew Goodman, by Klansmen on June 21, 1964.

#The community center was a place for young blacks, where they could hang out, play ping-pong, read. "There were thousands of books," Bender told the jury. Her husband and his new friend, black Meridian native J.E. Chaney, built the bookshelves themselves. They hosted a children's story hour, "a precursor to Headstart, a model program." They had hoped to start the next community center—or "Freedom School"—in Neshoba County, both to help children who were segregated into substandard schools and to help adults get ready to tackle the arduous—and unfair—literacy tests that stood between them and their right to vote.

#But such a noble-sounding goal was a threat to too many Mississippians' "way of life"—which meant segregated and separate-but-unequal facilities and schools, as well as complete power over the political system. And white Mississippians weren't about to give up so easily. Angry men and women called the community center continually to taunt and threaten and cuss at the workers, to accuse them of being "communists," to make clear their sentiments about "Goatee," as Schwerner was called by whites here because of his "radical" facial hair. Bender remembers vicious phone calls, with voices telling her that her husband was dead, or soon would be.

#The Schwerners had to keep moving, staying with black families who were threatened for helping them, renting homes from black owners every few months. For a while, they stayed in black businessman Charles Young's Meridian hotel—but had to go in and out the back entrance because they were white.

#The threats soon proved to be real. The Klan—according to testimony by former members—would organize in Meridian and Philadelphia in response to the Schwerners' work. Using a license plate number and other information disseminated to law enforcement by a state agency, the Klan would carry out a detailed plan to execute Schwerner and his friends, bury them, dispose of their car and then cover up the scheme.

#Bender, who was in Oxford, Ohio, for a nonviolence workshop when the three men came up missing, heard that the burned-out car was found three days later while waiting in the Cincinnati airport to get back to Mississippi to help look for her husband. She had run into Mississippi civil rights matriarch Fannie Lou Hamer in the airport, and they were talking when someone found Bender to tell her the car had turned up in the Bogue Chitto swamp. She knew then that they were dead, Bender testified. She and Hamer embraced and started crying. "Our tears mingled," she said. The bodies, however, were not found for 44 days, buried under an earthen dam outside Philadelphia.

#'Patriotic and Christian'

#The conspiracy to kill the three men, informants testified in 1967 and again this week, was planned by Preacher Edgar Ray Killen. Then 39 and in vibrant health, Killen was a loquacious Neshoba County personality, as well as a known Klansman in his younger years, known for intermingling his faith in God with the practical goal of maintaining white supremacy.

#"Preacher Killen told me this was a very patriotic and Christian organization," now-deceased conspirator James Jordan told a 1967 court convened by the federal government to bring civil-rights charges against 19 conspirators. Seven of the conspirators, including Jordan (who pled guilty in exchange for testimony), served time in federal prison; however, Killen walked free thanks to one juror who later said she "could not convict a preacher." A portion of Jordan's testimony was read into the record in this trial.

#Informants like Jordan who were recruited into the Klan by Killen, a "kleagle" (meaning "organizer" in Klanspeak), made it clear that preventing school integration—and thus race intermingling and, ultimately, understanding and mutual respect—was at the heart of the Klan's goals then. "We were opposed to integration. We were opposed to the coloreds going to white schools," he said.

#Cross burnings, beatings and "elimination" were ways they used race terrorism to prevent such societal integration, much as the organization first used sheets to scare blacks out of exercising their new right to vote during Reconstruction. An early goal of the Ku Klux Klan, started by Confederate Gen. Nathan Bedford Forrest in 1865, was to terrorize blacks into thinking that "ghosts"—the first "night riders"—would haunt them if they tried to exercise the rights they gained after the Civil War.

#Jordan's testimony laid the foundation for what happened on the evening of June 21, 1964. Schwerner, Chaney and Goodman—on his first full day in Mississippi—drove to Neshoba County from Meridian that Sunday to look at the remains of the Mount Zion Church in the Longdale community. Neshoba and Lauderdale County Klan members had burned the church and beaten the parishioners on the evening of June 16 because they heard they had been talking to "Goatee." Testimony in 1967 also indicated that they hoped to lure Schwerner to Neshoba County in order to ambush him there.

#That plan worked. After they left the church June 21, Deputy Sheriff Cecil Price pulled the men over for speeding and then put them in jail. While they were there, and not allowed a phone call, Jordan's and other testimony indicated that Preacher Killen gathered some two dozen men in Meridian and Philadelphia to help put his plan into motion. According to testimony, he ordered Jordan to get rubber gloves for the men, told everyone where to meet and when, and then left the conspirators in order to establish his alibi by paying respects to Alex Rich at McLain-Hayes Funeral Home. (A funeral home register book in the possession of former Neshoba Democrat editor Stanley Dearman showed he also signed the register as "Rev. Edgar Ray Killen" that night in the next parlor over. He stopped into visit the family of a little girl in the next parlor, whom father members said Killen was not close to—perhaps to solidify his alibi.)

#The afternoon of June 21, Jordan said, Killen had told the men that the three civil rights workers were waiting in the Neshoba County Jail and that he needed "some men to tear their rear ends up." But when the mob arrived in Philadelphia, they would learn that bulldozer operator Herman Tucker had a fresh grave waiting for the men on the property of businessman Olen Burrage near the Neshoba County Fairground. Their bodies would be interred there until informer and highway patrolman Maynard King, now deceased as well, led the FBI there 44 days after they were killed—on Aug. 4, 1964.

#Because They Were White

#The petite-but-powerful Bender—now a regal, white-haired Seattle attorney, remarried with two grown children—made it clear 41 years after her first husband's death that she did not come to Mississippi to talk about her feelings and to use emotion to elicit easy sympathy from a jury. In fact, she steadfastly refused to answer any question from media that started, "How do you feel?"

#Bender came back, instead, to watch a Mississippi jury—with nine whites and three blacks—convict a conspirator for the first time of a State criminal charge in the case that made a nation pay attention to race brutality in the South. But standing in front of the courthouse, Bender emphasized that none of us are in Neshoba County this week due to the fact that James Chaney, a native Mississippian and a black man, had been killed.

#"You're here, you're interested in this trial as the most important trial in the Civil Rights Movement because two of the men were white," Bender told the media. "You're still doing what was done in 1964."

#Regardless of the outcome, Bender's message throughout her visit to Neshoba County was that this case, while important, is not enough. "The discussion about racism in this country has to continue," Bender said. "If this is a way to do that, then this trial has meaning."

#'This Could Be the End'

#Sitting in the Coffee Bean across from the courthouse later that day, James Chaney's younger brother, now 52, echoed Bender's sentiments. Ben Chaney—who was only 11 when his brother was killed, with TV images of him tearfully singing "We Shall Overcome" seared into many Americans' consciousness—has been critical of this case, primarily because the state is only prosecuting one man, instead of the seven conspirators who are still alive. He calls the case "incomplete."

#"It's good they went after Killen," he said in a lengthy interview. "But I'm afraid this could be the end. … [The trial] gives the community a chance to exonerate their guilt, but it can also bring another level of distortion."

#He believes the state is focusing on Killen because "he is so unrepentant" and because the Klan is now such a lightning rod, even among people who used to defend them. "People hate the Klan because it represents the worst of the community."

#But, like Bender, Chaney does not want to see too much focus on the Klan. That would obfuscate the reality of what was going on in Mississippi on every level of white society, from the governor's mansion to the Citizens Council, the Sovereignty Commission to white Mississippians who wouldn't speak up against race hatred and violence.

#"In the '60s, good people did nothing," Chaney said.

#To truly move forward and away from the past that many Mississippians still prefer not to talk about, Chaney said, we must do what makes us uncomfortable: face the truth. And that truth can hurt—it means that simply blaming a few rednecks in the Klan for Mississippi's ugly race history is inaccurate and, indeed, "incomplete," as Chaney calls it. It also means not learning the lessons that can keep history from repeating itself—as it did in Jasper, Texas, when young white men dragged a black man behind their pickup until his head detached in 1998, or in Laramie, Wyo., the same year when young homephobes left Matthew Shepard tied to a fence to die.

#Chaney talks about continuing race discrimination and economic oppression, as well as homophobia, when he warns that a less-than-complete accounting for the past will not bring change. Through the James Chaney Institute for Human Rights, which is about to open an office in Meridian, Miss., he works with young people to train new leaders and help open their eyes to accurate history, he says. "That's my job—to make sure history doesn't repeat itself."

#The transplanted Mississippian—who moved with his mother, Fannie Lee Chaney, to New York City after his brother's death—said black Mississippians still suffer under the pain and legacy of lynchings. The race terrorism wasn't simply brutality by a handful of violent people; it served as a strong deterrent to keep them from economic and political equality, and helped instill the economic inequalities that still exist today. He points to the recent anti-lynching resolution in the U.S. Senate—and Trent Lott and Thad Cochran's absence from the signature list—as evidence that many white Mississippians still don't get it, or won't admit it if they do.

#"They blew it," Chaney said of Lott and Cochran. "They have a responsibility; they dropped the ball. They're still defending those acts."

#'The Toughest State'

#"You can cut years off the fight throughout the South by concentrating on Mississippi and showing how there can be progress in the toughest state," Michael Schwerner said in April 1964. The quote was handwritten on a poster tacked to a tree at a Memorial Service to the three last Sunday at the Longdale Community Center east of Philadelphia.

#"It's good that Killen is being prosecuted," said civil rights veteran Diane Nash, who helped lead the early Nashville lunch counter sit-in in 1960 as a founder of the Student Nonviolent Coordinating Committee. "But what about the others? What about the eight men found when the FBI was looking for their bodies. … Mississippi is protecting racist white men and needs to stop."

#What is difficult for—or simply unknown to—many state residents is that Mississippi was the worst offender by nearly any standard. We had more reported lynchings. We came out of Reconstruction with horrendous "Black Codes" designed to yank away any rights blacks had won after the Civil War. Jim Crow laws were not to be bent even by critics, and the law was there to enforce them.

#Then there was the implicit and explicit agreement by every level of government and society to keep blacks stratified into a separate-but-unequal status. Blacks could vote—technically—but were harassed away from the polls, or beaten or killed or cut off from their welfare checks when they tried. Or they were asked how many bubbles in that bar of soap. They were taxed, but couldn't vote.

#African American taxes even helped pay for a state spy agency to ensure that they would never demand their rights under the U.S. Constitution. The state Sovereignty Commission—established by the Legislature in 1957 to counteract the "threat" of school desegregation—was supported by taxpayer money until 1973, as well as financing from members of the white Citizens Council. That group was known as the "uptown Klan," as newspaperman Hodding Carter Jr. called the group of business leaders that boycotted his business, and many others, in the 1960s for his support of civil rights.

#Sovereignty Commission files (now available online) show that state investigators tracked the civil rights activities of the Schwerners and provided their license number to police officers and sheriffs (and, thus, the Klan, which was "riddled" with law enforcement, as Bender put it). "Investigators" did everything possible to discredit the movement and, perhaps most alarming, stirred up race hatred around the state. The file contains letters from prominent businesspeople, most Citizens Council members, who donated money to the effort.

#In myriad ways, the state government fed directly into the violence that occurred on Road 515 as well as other civil rights violence.

#Bender said on Day 3 that truth should start with acknowledging that the state of Mississippi itself was a conspirator in her husband's murder. "There needs to be a discussion about how the government of Mississippi created this atmosphere where violence was permitted and, to a great extent, encouraged," she said, adding, "The state has to acknowledge its responsibility."

#A 'Peaceful' Klan?

#But even as public sentiment now rejects the Klan and its more notorious figures, acknowledgement of just how bad the state was on "the race question" and the complicity of white citizens—including loved ones and role models—is an extremely arduous task.

#A common, and easy, response to race-dialogue efforts today in Mississippi is that there is racism everywhere, so why should Mississippians keep apologizing, or be constantly under the microscope. Killen defense attorney James McIntyre used this argument during closing arguments this week. "The state of Mississippi needs to go forward, not backward," he said, adding, "This has done nothing but agitate all the citizens."

#But truth can be, and often must be, agitating. Thus, it can be easier to live in denial and hurl "opening old wounds" excuses rather than face the past. This week, former Philadelphia Mayor Harlan Majure, taking the stand in defense of Killen, made headlines when he told the court that he remembered the Klan being "peaceful" and doing good deeds. This was particularly galling to many because the Klan tends to pop up as the more vitriolic—if not outright violent—response to strides toward race equality by blacks, as well as Jews and other groups, now including homosexuals.

#It's hard for a student of Mississippi, or American, history to buy the "peaceful" label for the Klan, but it's easy when you grow up amid uncomfortable silence on such issues—perhaps not learning until you're 14 that a very famous murder case happened in your hometown when you were 3. You might be told that the extremists (or "communists" or "outside agitators" or, these days, "liberals") overblow the rhetoric. You hear that Forrest, a military hero, started the Klan for pure, Christian reasons. It was a gift to scared blacks who preferred being separate then and later during the 1960s. Or, as Killen and others have told the media over the years, those young men came down "looking for trouble" and "got themselves killed."

#You don't know what you don't know. At least until you become more educated.

#That's what happened to Deborah Posey, 50, a white nurse on the Mississippi Band of Choctaw Indian Reservation. Posey grew up in Philadelphia amid the de facto code of silence just like everyone else did. She had never been an activist, and her family didn't really talk about race issues very much. But one day last year she saw a story in the Neshoba Democrat about a group of local people coming together for "redemption and reconciliation."

#"Those were words that resonated with me," Posey said, sitting in the back row of the courtroom after closing arguments and the case went to the jury. "But it didn't feel like people in the city wanted to deal with it."

#The nurse joined the Philadelphia Coalition, a multi-racial group that called for prosecutions in this case, and her personal education began. She started understanding the hollowness of the rhetoric used by attorney McIntyre in his closing statement. "Old wounds, old wounds, old wounds," the nurse said. "A wound can look healed and not truly be healed … eventually you have to open it up and let it be drained."

#'I Believe in Prayer'

#Posey is quick with her reason now for joining this effort to bring better racial understanding to Neshoba County. "I believe in prayer, and I've been praying for a long time for my city. I want to see my city heal and go forward." She is adamant that it can only do that once the past is squarely faced.

#Education is absolutely essential, Posey said—including about the hard stuff that might even agitate people a little at first. "I've met people I did not know," she said of her involvement with the coalition, which has drawn blacks, whites and Choctaws on all economic levels. It has also drawn ire from civil rights veterans like Diane Nash who say that descendants of racists are now trying to "profit" off civil rights history, and aren't willing to be completely honest about the past.

#Posey, though, said she now wants to hear the truth, all of it, from the large to the small stories that helped her understand that other people have different perspectives. She recalls learning from a Choctaw friend in her 40s that as a little girl, she thought that a "white only" sign in a local store meant she could only order white, or vanilla, ice cream. It was a small story, but one that shows how a third race can easily get left out of the attempts for understanding.

#"You need to walk in someone else's shoes to know how somebody else feels," Posey said, adding that facing fears and shame isn't easy. She advises other Mississippians: "Face those fears; I've had to face mine."

#Posey is quick to say that this effort must not end with Killen, regardless of the verdict, even though she expects that some members of the coalition might get back to their normal lives once it's over. "It's still a process, still a process of healing," she said.
Despite criticism such as Nash's, coalition members are working to push the work forward. On Wednesday through Friday of this week, June 22-24, they are hosting an education summit for teachers at Philadelphia High School—the "Chaney, Goodman, Schwerner Living Memorial Civil Rights Education Summit"—a free event with workshops on how to incorporate more complete civil rights studies into curricula, as well as a keynote address by civil rights veteran Lawrence Guyot. And the coalition announced after the verdict that they are going to push for a larger racial-reconciliation effort in the state for a fuller accounting of the state's racist past and more public atonement for past crimes.

#Leroy Clemons, the 43-year-old black co-chairman of the Philadelphia Coalition and head of the local NAACP, said that "we are not done here." With the multi-racial members of the Philadelphia Coalition standing behind him just after the verdict on June 21, Clemons described the conspiracy between the state, the Sovereignty Commission, the Citizens Council and the KKK in a way seldom done in the state. "These facts have been little understood by Mississippi citizens," Clemons said, calling on "honest citizens in every county … to answer the call." The coalition's renewed purpose, he said, is to "seek truth, ensure justice for all and to nurture reconciliation … to see this journey through to the promised land." He added, "We must understand the system that encouraged it to happen, so we can dismantle it."

#"This is one of the major steps in the beginning," Posey said of the Killen case. "It is not the end."

#The Good People's Time

#Ben Chaney is impressed with forward-thinking children of Mississippi who have not left, or who have returned, to help mend racist rifts, even as he has been critical of the Philadelphia Coalition, especially for allowing Gov. Haley Barbour and Rep. Chip Pickering to speak at the 40th anniversary commemoration service for his brother and his two fellow activists in 2004. He pointed to the state flag pin that Barbour wears on his lapel that contains a symbol of a way of life that his brother died to change. At last year's event, Chaney held a press conference outside the Mount Zion service, criticizing the coalition for edging out long-time civil rights veterans and for bringing "negative people" like Barbour to the podium.

#Still, Chaney seems to have mellowed a bit by this year, and is complimentary of Mississippians—including young whites—who are working for reconciliation. "Good people have been intimidated for too long," he said to the group gathered under huge trees outside the shell of the Longdale Community Center Sunday (it burned in recent years). "So many young people turned 18, 20, then found out what their neighbors did. The first thing they did is left the state." But, he said, some are coming back and "fulfilling their obligation to the state, to their motherland." This retention and education of young people is key, he said.

#"I'm afraid if we don't train young people to take the lead, it'll be another 40 years until the name 'Olen Burrage' is brought up," he said. Chaney is particularly concerned with men he calls "millionaires" who play behind-the-scenes roles in race problems—whether the Citizens Council boycotts of newspapers and progressive business owners or rich businessmen (like, allegedly, Burrage) allowing graves to be dug on their land. (Burrage was acquitted in 1967; he still lives in Philadelphia.)

#Chaney believes the reconciliation effort must be multiracial; yet, he wants it to be brutally honest, and he wants leaders held accountable for their role. He calls for the state Legislature, with its large number of black members, to establish a statewide Truth and Reconciliation Task Force. The group would both detail and acknowledge the state's role in civil rights atrocities, as well as gather information into one place on unsolved race murders and demand prosecutions of killers who are still alive. It would gather legal resources, identity race-violence victims and their families and be a way to call in the Justice Department for investigative assistance (which he strongly believes Attorney General Jim Hood should have done in this case).

#"It would promote a fundamental premise of justice," Chaney said of his task force idea. He doubts that the state's leadership, including Barbour and Lt. Gov. Amy Tuck, would buy into the idea, but he calls for the legislators, especially the House, to act on behalf of the people.

#Cleaning Mississippi's House

#Chaney has roundly criticized Susan Glisson, the director of the William Winter Institute for Racial Reconciliation at Ole Miss, for her role in allowing Barbour the podium last year at the first county-wide event to honor the three men, which was organized by the Winter Institute. However, this week during the trial, she and Chaney and many others were echoing very similar sentiments about the need for the state to face all its demons. She particularly liked Chaney's idea for a legislative task force to help the state get past its "willful amnesia."

#"That's a phenomenal idea," she said when told of Chaney's idea. "I think everything ought to be on the table to have the conversation." She also wants to see race forums in every county in Mississippi, creating a "safe environment" for difficult discussion. And, like Chaney, she does not believe that a truth and reconciliation effort should include amnesty for old race crimes—which some supporters call for in order to get people to talk more easily.

#"First justice, then truth is established within," Chaney said at the Coffee Bean. He and Glisson believe that communities coming together to call for old prosecutions can, and must, then go further toward revealing the entire truth—not just what the prosecution decided would help the case against one of many conspirators.

#Chaney joins others in Mississippi like the former newspaper editor Stanley Dearman (who calls Killen the "first among equals" of the conspirators) in wanting Killen's verdict to be guilty. Yet, it is just not enough. "I don't think this one case is going to clean Mississippi's house," he said.

#But the younger generations can do just that, Chaney said—adding that Mississippi is the "safest" place for him and is a "shining example" of young blacks and whites working together. They just have to work harder to bring more people into the light.

#Derrick Johnson, the president of the Mississippi NAACP, is trying to do just that. Standing on the Neshoba County courtsquare on Day 1, with his young son standing at his side, he said that the "quiet game" must end and that the state of Mississippi needs to acknowledge its past sins regardless of Preacher Killen's fate.

#"The state of Mississippi should be held accountable for its actions," Johnson said.

#So must the country, Bender emphasized. This isn't just a Mississippi problem—the rest of the country must face the question of race as well, she said under the magnolia tree. "In some ways, maybe the country is on trial," Bender said.

#Clemons said after the verdict that it is time to step up and do the right thing. "As a state and a nation, it is time to answer the call," he said, then sending a message to other Mississippians: "We challenge our fellow citizens to join us in an honest appraisal of the past."
#Donna Ladd grew up in Neshoba County.
To view the original article CLICK HERE
As of 12-Jan-2018 the world is a better place with the death in prison of the cowardly KKK Preacher Edgar Ray Killen who organised the brutal mob murder of James Chaney, Michael Schwerner and Andrew Goodman, all in their 20s, who were ambushed and killed by a shamefull American mob of cowardly Klansmen in 1964.
'Mississippi Burning' KKK leader Killen dies in prison at 92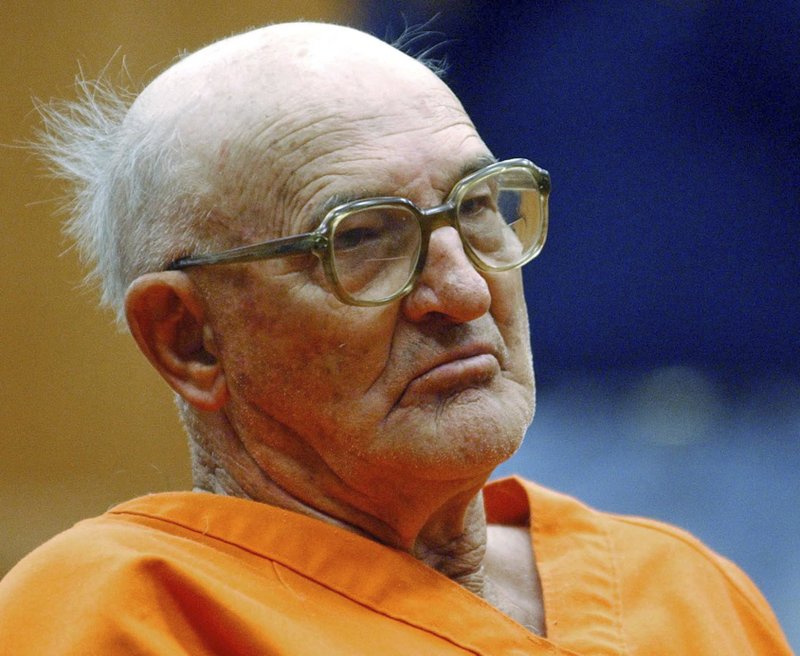 JACKSON, Miss. (AP) — Edgar Ray Killen, a 1960s Ku Klux Klan leader who was convicted decades later in the "Mississippi Burning" slayings of three civil rights workers, has died in prison at the age of 92, the state's corrections department announced Friday.

Killen was serving three consecutive 20-year terms for manslaughter when he died at 9 p.m. Thursday inside the Mississippi State Penitentiary at Parchman. An autopsy was pending, but no foul play was suspected, the statement said.

His conviction came 41 years to the day after James Chaney, Michael Schwerner and Andrew Goodman, all in their 20s, were ambushed and killed by Klansmen.

The three Freedom Summer workers had been investigating the burning of a black church near Philadelphia, Mississippi. A deputy sheriff in Philadelphia had arrested them on a traffic charge, then released them after alerting a mob. Mississippi's then-governor claimed their disappearance was a hoax, and segregationist Sen. Jim Eastland told President Lyndon Johnson it was a "publicity stunt" before their bodies were dug up.

The slayings shocked the nation, helped spur passage of the landmark Civil Rights Act of 1964 and were dramatized in the 1988 movie "Mississippi Burning." The movie title came from the name of the FBI investigation.

Killen, a part-time preacher and lumber mill operator, was 80 when a Neshoba County jury of nine white people and three black people convicted him of three counts of manslaughter on June 21, 2005, despite his assertions that he was innocent. Prosecutors said Killen masterminded the slayings, then went elsewhere so he would have an alibi.

Killen was the only person ever to face state murder charges, and even then, it was the lesser charge of manslaughter that put him in state prison.

"It wasn't even murder. It was manslaughter," David Goodman, Andrew's younger brother, observed Friday.

"His life spanned a period in this country where members of the Ku Klux Klan like him were able to believe they had a right to take other people's lives, and that's a form of terrorism," Goodman said. "Many took black lives with impunity."

Schwerner, a white New Yorker, moved to Mississippi in early 1964 to work on black voter registration and other projects. Chaney was a black Mississippian who befriended him. Andrew Goodman, another white New Yorker, underwent civil-rights training in Ohio and arrived in Mississippi a day before he, Schwerner and Chaney were killed. Investigators searching for their bodies found bodies of other black men who had been killed in Mississippi, including two who were brutalized before being dumped in the Mississippi River.

Schwerner's widow, Rita Schwerner Bender, said on the day Killen was convicted that the slayings were part of a larger problem of violence in Mississippi against black people and others who challenged the segregationist status quo.

"Preacher Killen did not act in a vacuum and the members of the Klan who were members of the police department and the sheriff's department and the highway patrol didn't act in a vacuum," she said.

Goodman said Friday that Killen's passing is a reminder that issues of racism and white nationalism remain today. He pointed to the violent rally of white nationalists in Charlottesville, Virginia, as an example.

Killen wouldn't say much about the killings during a 2014 interview with The Associated Press inside the penitentiary. He said he remained a segregationist who did not believe in racial equality, but contended he harbored no ill will toward black people. Killen said he never had talked about the events that landed him behind bars, and never would.

Long a suspect in the 1964 slayings, Killen had made a livelihood from farming, operating his sawmill and preaching to a small congregation at Smyrna Baptist Church in Union, south of Philadelphia, Mississippi.

According to FBI files and court transcripts from a 1967 federal conspiracy trial, Killen did most of the planning in the ambush killings of the civil rights workers. According to testimony in the 2005 murder trial, Killen served as a kleagle, or organizer, of the Klan in Neshoba County and helped set up a klavern, or local Klan group, in a nearby county.

Nineteen men, including Killen, were indicted on federal charges in the 1967 case. Seven were convicted of violating the victims' civil rights. None served more than six years.

Killen's federal case ended with a hung jury after one juror said she couldn't convict a preacher. During his state trial in 2005, witnesses testified that on June 21, 1964, Killen went to Meridian to round up carloads of Klansmen to ambush Schwerner, Chaney and Goodman, telling some of the Klan members to bring plastic or rubber gloves. Witnesses said Killen then went to a Philadelphia funeral home as an alibi while the fatal attack occurred.

The three bodies were found 44 days later, buried in a red-clay dam in rural Neshoba County.

In February 2010, Killen sued the FBI, claiming the government used a mafia hit man to pistol-whip and intimidate witnesses for information in the case. The federal lawsuit sought millions of dollars in damages and a declaration that his rights were violated when the FBI allegedly used a gangster known as "The Grim Reaper" during the investigation. The lawsuit was later dismissed.

In the AP interview, Killen repeated his contention that he was not a criminal, but a political prisoner. He spoke of his many friends, Sen. Eastland among them. Of one thing he was certain: "I could have beat that thing if I'd had the mental ability."

When she learned of Killen's death, Chaney's sister, the Rev. Julia Chaney Moss, said her first thought was that "God has been kind to him. And for that I am grateful."

"My last thought on this is just that I only wish peace and blessings for all the families as well as the families of the perpetrators," she said.
To view the original of this post CLICK HERE
DON'T BE DECEIVED – Lynching In America Is NOT A Thing Of The Past!
On Saturday, an African American student, Richard Collins III, was stabbed and killed on the campus of the University of Maryland in what was widely – and … should have been a major story in the past few weeks, as should the lack of punishment for the killing of Alton Sterling and the lynching of Collins.
.
~~~~~~~~~~#########~~~~~~~~~~
.
Posted by: Greg Lance-Watkins
tel: 44 (0)1594 – 528 337
Calls from 'Number Withheld' phones Are Blocked
All unanswered messages are recorded.
Leave your name & a UK land line number & I will return your call.
'e'Mail Address: Greg_L-W@BTconnect.com
Skype: GregL-W
TWITTER: @Greg_LW
DO MAKE USE of LINKS,
>SEARCH<
&
>Side Bars<
&
The Top Bar >PAGES<
I try to make every effort to NOT infringe copyrights in any commercial way & make all corrections of fact brought to my attention by an identifiable individual
.
Re-TWEET my Twitterings
https://twitter.com/Greg_LW

To Spread The Facts World Wide

eMail:
Greg_L-W@BTconnect.com
The BLOG:
https://InfoWebSiteUK.wordpress.com
~~~~~~~~~~#########~~~~~~~~~~